21 Jul

3 MORE CERTIFICATIONS FOR KARTIK!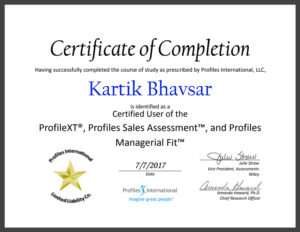 Dr. Kartik Bhavsar, Director of Organizational Effectiveness for CWC, has earned the following Certifications:
ProfileXT® – helps you screen job applicants to make sure they are a good fit for the position(s) you need filled. It has many applications including hiring, on-boarding, training, and succession planning.
Profiles Sales Assessment™ – helps you select, onboard, and manage sales people and account managers.
Profiles Managerial Fit™ – is a manager assessment which measures critical workplace compatibility factors between managers and their employee(s) to determine managerial fit.